6

Nutritional Solutions from Nestlé Health Science

Cancer can directly impact nutrition, so eating well is extremely important. Nutritional therapy – a set of therapeutic measures for maintaining or recovering nutritional status – seeks to prevent malnutrition, reduce treatments' adverse reactions and complications after surgeries, and avoid treatment interruption. These products add to your nutrition and contribute to your wellbeing!1-9

Learn about Nestlé's nutritional solutions that can help you on your journey!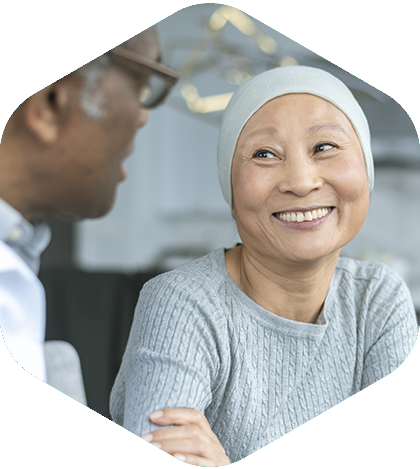 Products
References:
Muscaritoli M, et al. The "parallel pathway": a novel nutritional and metabolic approach to cancer patients. Intern Emerg Med. 2011;6(2):105-112.
Laviano A, Di Lazzaro L, Koverech A. Nutrition support and clinical outcome in advanced cancer patients. Proc Nutr Soc. 2018;77(4):388-393.
Muscaritoli M, Arends J, Aapro M. From guidelines to clinical practice: a roadmap for oncologists for nutrition therapy for cancer patients. Ther Adv Med Oncol. 2019;11:1758835919880084.
Arends J, Bachmann P, Baracos V et.al. ESPEN guidelines on nutrition in cancer patients. Clin Nutr. 2017;36(1):11-48.
Cotogni P, Pedrazzoli P, De Waele E et al. Nutritional Therapy in Cancer Patients Receiving Chemoradiotherapy: Should We Need Stronger Recommendations to Act for Improving Outcomes? J Cancer. 2019;10(18):4318-4325.
Prado CM, Purcell SA, Laviano A. Nutrition interventions to treat low muscle mass in cancer. J Cachexia Sarcopenia Muscle. 2020;11(2):366-380.
Baracos VE, et al. Cancer-associated cachexia. Nat Rev Dis Primers. 2018;4:17105.
Ravasco P. Nutrition in Cancer Patients. J Clin Med. 2019;8(8):1211.
de Van Der Schueren MAE. Use and effects of oral nutritional supplements in patients with cancer. Nutrition. 2019;67-68:110550.