Chickpea Pasta Primavera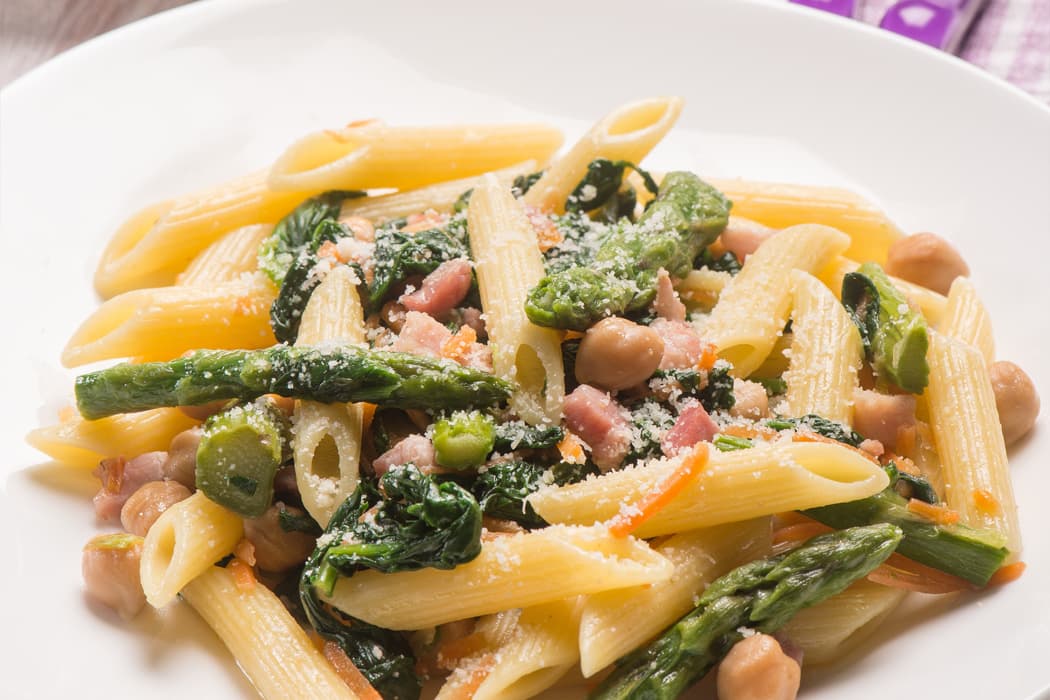 Time: 30 mins - Servings: 4
INGREDIENTS
8-ounce box chickpea pasta

1/4 cup + 1 tablespoon olive oil

1 shallot, finely chopped

1 garlic clove, minced

1/2 cup chopped asparagus (woody ends trimmed prior to chopping)

1/2 cup frozen peas

Juice of 1 lemon

Salt and pepper

1/4 cup chopped fresh basil
DIRECTIONS
Cook pasta according to package instructions.

In the meantime, heat 1 tablespoon of oil in a large skillet over low-medium heat. Add shallot and garlic and cook for about 1-2 minutes, untilthe shallot is translucent.

Toss in the asparagus and peas. Squeeze lemon juice over top. Seasonwith salt and pepper. Stir to combine. Cook for about 5 minutes, until theasparagus is tender-crisp and the peas are warmed through.

Add the cooked pasta to the pan with the vegetables. Pour in theremaining 1/4 cup olive oil and toss to combine.

Remove pan from heat. Stir in basil. Season once more with salt andpepper.
NUTRITION INFORMATION (approximate)
Amount per serving: Calories 380,Calories from Fat 180, Total Fat 20g,Saturated Fat 2.5g, Trans Fat 0g,Cholesterol 0mg, Sodium 90mg, TotalCarbohydrates 41g, Dietary Fiber 1g,Sugars 3g, Protein 13g, Calcium 64mg(4%), Iron 4mg (20%), Potassium 496mg(10%)
*Please be sure to share this recipe with your HCP and/or dietician for their review in line with their dietary recommendations.