Hawaiian Meatballs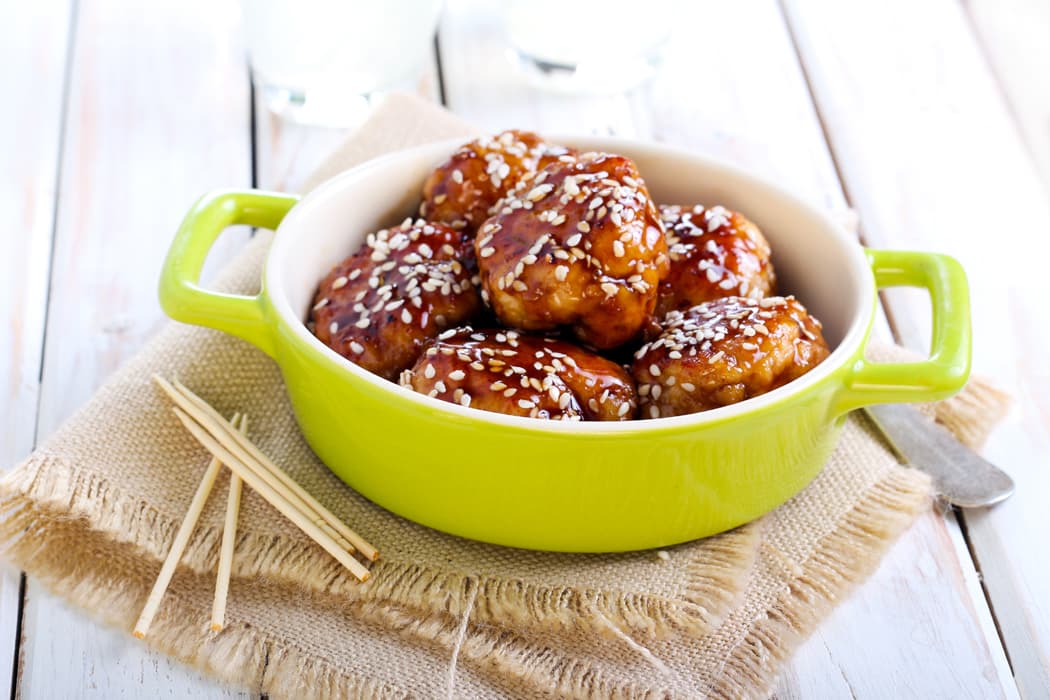 Time: 40 mins - Servings: 4
INGREDIENTS
1 pound lean ground beef

1 cup plain bread crumbs

1 egg

1/4 cup low-fat milk

Dash of garlic powder

Dash of onion powder

1 cup crushed pineapple with juice

3/4 cup water

1/3 cup honey

1/2 cup low-sodium soy sauce

3 tablespoons brown sugar

2 tablespoons rice vinegar

1/4 teaspoon ground ginger

1 tablespoon flour
DIRECTIONS
Preheat oven to 400°F.

In a large bowl combine the beef, bread crumbs, egg, milk, garlic powder and onion powder. Mix well with your hands. Roll the meat mixture into 1 1/2 inch balls and arrange on a baking sheet. Bake for about 15 minutes, until browned on the outside and cooked through in the center.

In the meantime, combine the crushed pineapple with juice, water, honey, soy sauce, brown sugar, rice vinegar and ground ginger in a medium saucepan and bring to a boil. Reduce heat and whisk in the flour until the sauce has thickened.

Pour the sauce over the meatballs and stir to coat.
NUTRITION INFORMATION (approximate)
Amount per serving: Calories 490, Calories from Fat 126, Total Fat 14g, Saturated Fat 5g, Trans Fat 0.5g, Cholesterol 120mg, Sodium 1520mg, Total Carbohydrates 62g, Dietary Fiber 3g, Sugars 40g, Protein 32g, Calcium 115mg (8%), Iron 5mg (30%), Potassium 605mg (15%)
*Please be sure to share this recipe with your HCP and/or dietician for their review in line with their dietary recommendations.